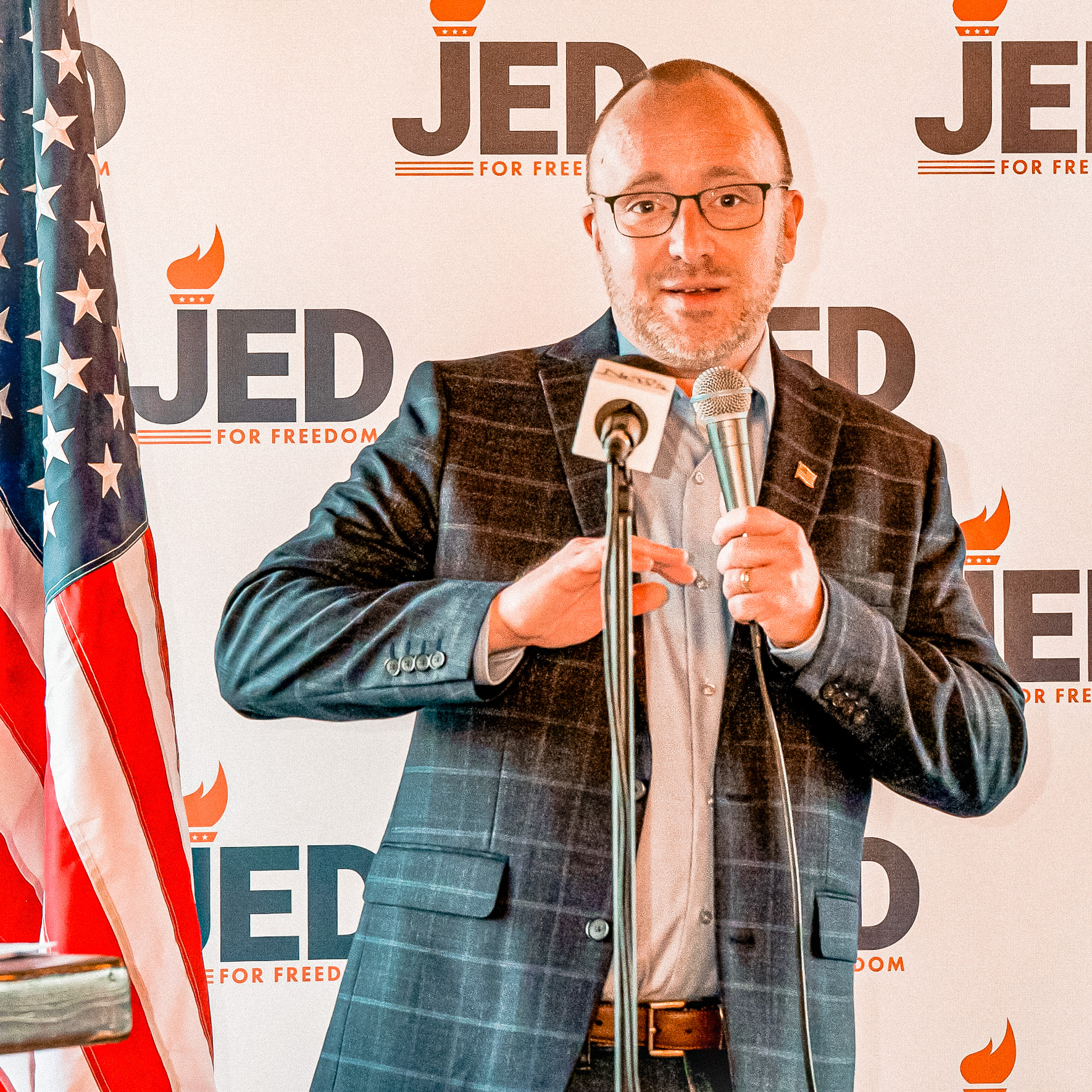 Key Positions
My beliefs and convictions are unwavering. They're never for sale. Please know I'll always stand firm for the issues important to the freedom and liberty of Illinois and the local communities we all call home.
Sincerely,
Jed Davis
Equal Representation
A representative represents the people, all the people. Please know I'm not concerned about gender, party, race, or religion. I'll represent you with perseverence and promise regardless of these identifiers. Never forget, it's always about the people and the people make our communities great!
Less Not More
11,270 is the number of bills and resolutions proposed by our current general assumbly (as of February 1st). Yikes!!! Springfield doesn't need more legislation, it needs legislators who represent common sense values. Let me be your voice, speaking on behalf of our families, communities, and businesses.
Restore Schools
Illinois is polarizing schools with lessons about sex education versus improving our overall career and/or college preparedness.
Reduce Taxes
Reduce unfunded mandates to lower property taxes. Reduce gas taxes (currently the second highest in the nation).
Assist Parents
Parents rights are under attack with government (at times) overiding their decisions and desires. Let's stop this nonsense.
Address Crime
Releasing violent criminals via cashless bail is far from positive reform. We must support our men and women in blue!
Supports Union Construction

100%

100%

Supports School Choice

100%

100%

Supports Reducing Government

100%

100%

Supports Public Education

100%

100%
How do we reclaim our communities?
Jed isn't downplaying the importance of filing legislation or writing letters, but let's be honest, the likelihood of success here is slim. After all, the status quo of Illinois is fairly entrenched. So, we need a fresh approach and here's where you're vitally important.
Don't ever forget, the power is and always will be with the people. Jed believes in a three step approach: 1) acknowledging "movements" of people, 2) connecting with them, and 3) empowering them. Change will ultimately follow by simply leveraging we the people!
What about family values?
Jed highly values faith, family, and freedom and believes all three go hand in hand, meaning strong faith promotes strong family promotes strong freedom. His family is a foster family through the Illinois Department of Children and Family Services (DCFS). They've fostered multiple children, even adopting their youngest daughter from foster care. He'll defend family values with every action, comment, and vote.
What about police and fire?
Jed's oldest daughter is an emergency medical technician and volunteer firefighter here in Illinois. He also has both family and friends actively involved in law enforcement. All police and fire have his utmost support and respect. They're the ones on the line day in and day out serving and protecting our communities. Jed is grateful for their commitment and willingness to run towards danger whenever and wherever presented.
Jed is endorsed by local county sherrifs (including DeKalb, Grundy, Kendall, and LaSalle Counties).
What about schools?
Communities need thriving public schools, private schools, and home school groups and they should all support one another. Public schools are literally the identify and spirit of communities like Yorkville, Somonauk, Sandwich, Oswego, Newark, Morris, Minooka, and Lisbon. Did you know Jed graduated from Lisbon Grade School and Newark High School? Trust us, he fully supports public education!
Jed wholeheartedly opposes mandates from the governor involving masks, vaccines, etc. These items should always be a family's or individual's choice, not a governor's mandate. Jed also opposes the recent legislation / curriculum around critical race theory and sex education. It's a continued intrusion of government into areas where parents should rule.
Jed also fully supports school choice and would vote for vouchers in a heartbeat, even if only applicable for public schools!
What about taxes?
Let's first unpack some facts. Illinois ranks 30 out of 50 for economy and 50 out of 50 for fiscal stability per the US News and World Report. These rankings should make everyone annoyed and frustrated! Illinois is literally in last place. Jed believes taxes are the problem, not the solution. Illinois can't tax it's way out of last place, but Illinois can budget it's way out of last place. This state desperately needs fiscal responsibility and Jed will consistently vote no to taxes.
We must stop enacting new taxes and raising existing taxes. We're not creating healthy environments for businesses and families to thrive.
What about the governor's mandates?
Ignoring the legislative branch for more than two years, the governor has pushed control through mandates and orders. Thinking back to grade school, this method isn't how we're governed.
Jed's track record speaks for itself as board president of Parkview Christian Academy. He's been challenging the governor and promoting parent choice since June of 2020. While filing legislation and writing letters are important, he believes rallying local communities and movements truly propels change.
What about the second amendment?